Finovate in London was the latest of a series of conferences that take place worldwide annually. Over the years, 1,500+ companies have taken the stage in New York City, London, Silicon Valley, Hong Kong, Dubai, and Cape Town.
The conference featured over 35 live demonstrations from fintech firms, while various experts were in attendance to give talks on relevant and timely industry topics.
SVB impact
The recent collapse of Silicon Valley Bank (SVB) was a last-minute addition to the agenda and the first topic of discussion on the Finovate agenda.
"With SVB it was a case of bad banking," said fintech commentator and CEO of The Finanser, Chris Skinner. "They had $68.1bn in deposits in 2018 … by March 2022 that had risen to $198bn. They could not liquidate money that needed to be held to maturity. They believed interest rates would not go up, a very stupid thing to assume."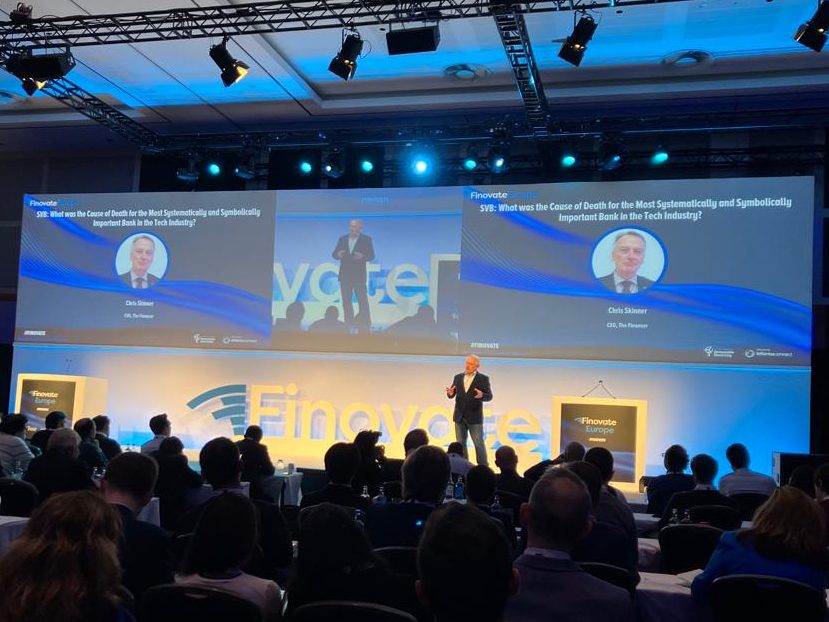 Referencing the downfall of SVB, Head of Innovation at Swift, Nick Kerigan, reiterated the importance of CBDCs and their role as the next major stage in the evolution of finance. "Money is about trust, whether it's a credit card, a banknote, a Bitcoin, or a stablecoin. It is societal trust in the system that gives it value. The last few days has shown that that trust remains vitally important. Real change in money is rare, but when it happens, it's monumental."
For over a decade, Finovate has attracted the biggest names from across the financial landscape – 48% of past attendees are from financial institutions such as banks, credit unions and investment management firms, while 28% represent fintech or technology companies.
Senior leadership from marquee names such as Barclays, BNP Paribas, Citi, Fidelity Investments, HSBC, ING, JP Morgan, and Lloyds have attended, as well as representatives from solutions providers, investors and VCs, media and government.
Metaverse role in fintech
As a major emerging technology in the fintech sector, the metaverse featured heavily on the speaking agenda. "Today's metaverse doesn't have legs, but it will get there," Skinner said. "From a financial viewpoint, the metaverse will be fuelled by cryptocurrencies in my view. There will be some backing of the players in the metaverse that are offering financial holdings or services".
Malin Lignell, VP of Digitalisation at Handelsbanken, meanwhile highlighted the importance of gaming and by association the metaverse for under-16s, who use gaming more than any other medium, including social media.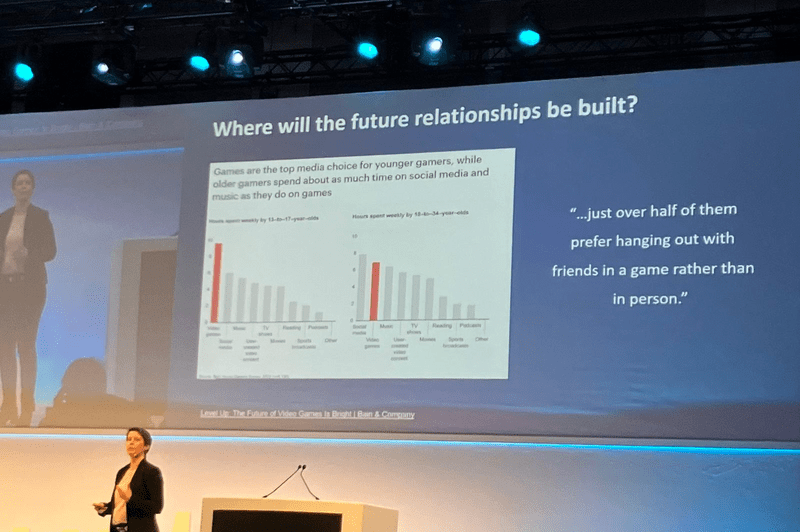 The need to protect customer data was another major trend. "When you look at data privacy and ownership, I really hope there will be a flip. Our data is owned by a bunch of large organizations who use it and make money from it. But it's a black box to us. What if this could change using Web3 and blockchain technology?", said Steven Van Bellegham, Web3 expert and author, who was also there for book signings. "If you want to invest in Web3, you should be investing in customer loyalty and value."
Showcases
Each demo presenter was given just seven minutes to showcase their latest fintech innovation. Presentations were followed by a Q&A session, allowing attendees to ask questions and learn more about the technologies being presented. Five Best of Show winners were announced on Tuesday. These included:
10x Banking for its technology that enables banks to move from monolithic to next-generation core banking solutions with its cloud native SaaS core banking platform Supercore.
FinTech Insights by Scientia for its competitive analysis tool for banks and fintechs that offers all the data companies need to outsmart the competition.
NayaOne for its technology that enables institutions to 10x their digital transformation with single-key access to 200+ fintechs to discover, evaluate, and scale new solutions to production.
TAZI AI for its technology that empowers experts and data scientists to create, update, and deploy ML models with a no-code platform, making smart decisions in dynamic environments.
Your Juno for its solution that engages more than 50,000 users around financial education.