Governance has become a key priority for investors, the FTSE Russell 7th Annual Sustainable Investment Asset Owner survey shows.
The survey, with 350 respondents globally, reveals that the priority of sustainability governance has "significantly risen across all regions", increasing from 33% in 2022 to 54% in 2023.
Commenting on the survey results Tony Campos, Head of Sustainable Investment, Index Investments Group, LSEG, and Sylvain Chateau, Global Head of Product, Sustainable Finance & Investment, Data & Analytics Division, LSEG said that they "believe the strong focus on governance and greenwashing is one example of the asset owner community's increasingly sophisticated approach to sustainable investment. Prioritising governance and embedding it into investment strategies is a positive endorsement of a maturing industry approach".
After 5 years of steady growth, this year's findings show a global decrease in the implementation of sustainable investment by asset owners, which has dropped from an all time high point of 88% in 2022 to 80% in 2023. According to the report, the decrease can be attributed to macroeconomic factors and geopolitical volatility, but "can also be traced to respondents in the US, where environmental, social and governance considerations have become contentious in the country's political system, as they have also in other G7 countries."
Despite this "dip", FTSE Russel asserts that sustainability and particularly improved and enhanced governance is likely to continue as a priority going forward, which is also "a supportive trend for the maturing sustainable investment theme in general".
The survey data seems to be supportive of this view because when those surveyed were asked whether they had implemented or were considering implementing sustainability considerations in passive or active investment strategies – the result showed an equal number of 73% for both strategies. According to the report "this flight to passive is a further indication of the mainstream characteristics of sustainable investment as asset owners cement their long-term investment strategies".
Climate/carbon a priority in EMEA
Climate/carbon is an area of increased focus, especially for assets owners in EMEA, where according to the survey 73% of respondents thought of it as a priority, as compared to 'only' 36% last year.
One reason for the much lower prioritisation of climate/carbon last year could be connected to EMEA respondents not having fully factored in the impact of the war in Ukraine on energy prices and the impact of those prices as well as inflationary pressures, in turn, on their investment strategies. The spike this year could well be an acknowledgement not only of the direct cost of the war, but also an acknowledgement of a new economic reality against the backdrop of persistently heightened geopolitical tension.
"Prioritising governance and embedding it into investment strategies is a positive endorsement of a maturing industry approach."

Tony Campos and Sylvain Chateau
Notable in this year's findings are the reasons why firms implement sustainable investment, with more than half (52%) of asset owners saying that this is being driven by external demand from members and clients – this is up from 45% in 2021. Mitigating long-term investment risk was a key secondary rationale, which suggests that respondents are concerned about the potential impact of climate change and are factoring this and the associated risks into their longer term and strategic thinking.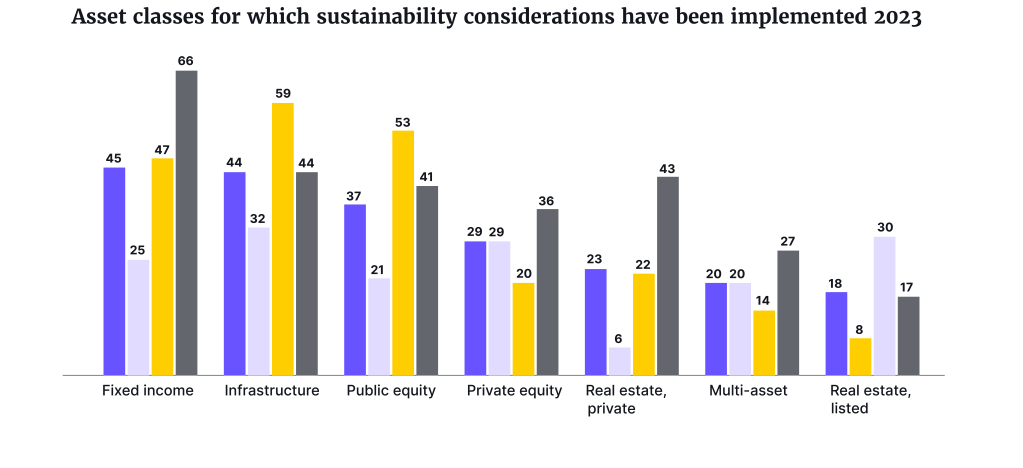 Data availability and reliability a key concern
The report also shows that the most signifcant challenge for and biggest barrier to increased sustainable investment is the lack of standardised and reliable data, coupled with concern about the quality and consistency of corporate reporting and disclosure.
Half of the respondents signalled a 'lack of trust in data quality', with worries about the reliability of data registering even higher in the EMEA where 71% of respondents also are very concerned about gaps in the data that is available. A concern which has probably made data dropped as a priority area down from 73% in 2022 to 37% this year.
Financial performance and regulatory constraints also feature as key barriers, and 27% of respondents indicated that the risk of greenwashing also continues to be a concern as well as a barrier to implementation. A high proportion (36%) of those who had not yet implemented sustainable investments cited the potential reputational risk of greenwashing linked to sustainable investments as a key factor.
Regulation is beneficial and needed
Despite the challenges and barriers of those surveyed, they resoundingly said that regulation is both beneficial and supportive in meeting sustainable investment goals. Because of this, the majority of asset owners are in favour of more robust regulatory approaches, and believes that regulation:
improves investor disclosure to the market around sustainable investment strategies and outcomes – 65%;
improves the quality and consistency of corporate reporting and disclosure – 58%;
might be helpful in removing barriers to sustainable investment adoption – 40%; and
might be helpful with respect to guidance around fiduciary/investor duty – 22%.
According to the report, these views of regulation further highlight that more "robust approaches to governance are a key focus area for asset owners" with the expectation perhaps that better regulation will help counter greenwashing and lead to improvements in data availability and quality. Which, in turn, will support "asset owners' advancement in implementing sustainable investment into their long-term investment strategies".