The crypto industry needs voluntary industry standards to tackle its biggest barriers, research in a report from the blockchain protection company Coincover shows.
The report, Securing the Future of Cryptocurrencies, based on an extensive literature review and a survey of 16,316 people in nine countries, says that the two most significant barriers to mass crypto adoption are volatility and security risks.
"The industry can do more to protect users and reduce risk. We must develop clear standards and adopt best working practice principles. By so doing, we can reduce security risks, prevent reputational damage, and help to build confidence among users. Organisations which adhere to standards will become easily identifiable, and force out untrustworthy entities," said David Janczewski, CEO and co-founder, Coincover. "
Strong interest in investment
Even if the cryptocurrency industry is struggling to improve its reputation, the research shows that people are interested in investing in crypto – if the investment terms are more secure with additional layers of protection. More than half of respondents (55%) were said to be 'at least' crypto-curious, and 17% already hold crypto. About a third, 30%, say they are likely to invest in cryptocurrencies in the next 12 months.
Yet, according to the report's findings, the scandal of FTX has made people cynical about the entire market, and crypto holders are more cautious now about which providers they choose to invest from.
Many of the respondents also see crypto as "an enabler of criminal enterprise, financial fraud, and corporate crime" – rather than primarily for its use of financial innovation and privacy. When it comes to security hurdles, more than half of the respondents said they were concerned about fraud (52%), followed by hacking (51%) as the second biggest worry. Only 54% of those currently holding crypto said they were satisfied with their providers' commitment to security.
"Crypto's potential is huge, but our research makes clear that the industry must take steps to address consumer concerns. Many still perceive cryptocurrency as a mysterious technology and the industry must show that it is doing everything it can to protect investors, build consumer confidence, and provide stronger foundations for the future," Janczewski said.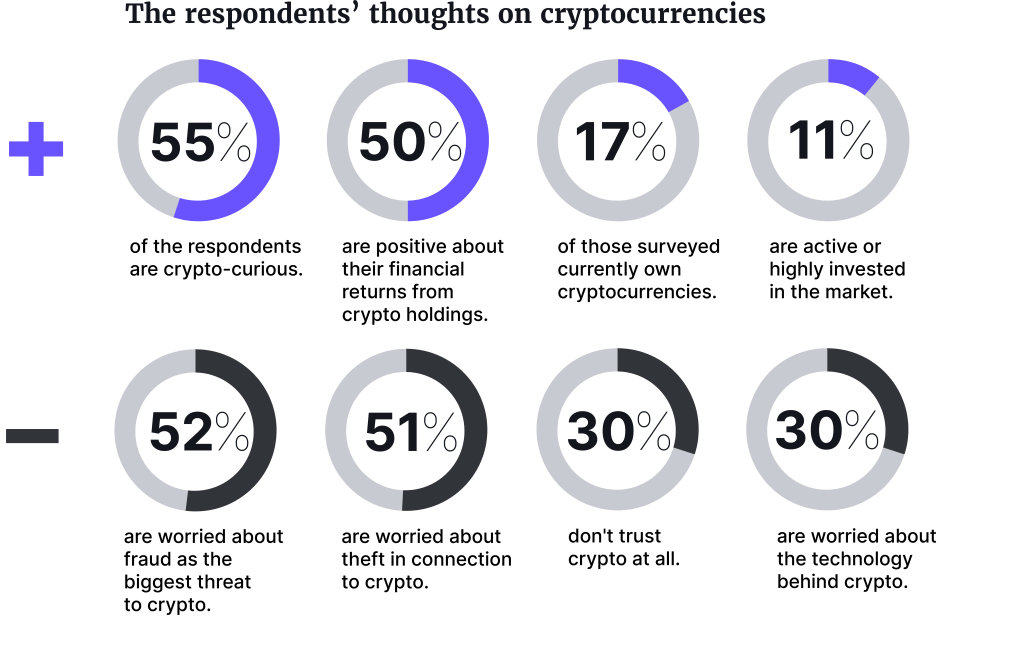 Overall, price volatility and security concerns topped the list of the biggest barriers for both users and non-users. Non-users also named complexity as a big hurdle and a reason for not investing.
"We need to ensure that assets with similar risks are subject to the same regulations. It takes time to understand the potential of any new technology and establish frameworks for protection, but it should be done with proportionality and a robust regulatory approach," Janczewski continued.
"Many still perceive cryptocurrency as a mysterious technology."

David Janczewski, CEO and co-founder, Coincover
"The crypto revolution requires two crucial ingredients to go mainstream. The first is scalable infrastructures, just as the Internet needed fast broadband to spread to billions of people. The second is security. As more people store their money, identity, or data into blockchains, they shouldn't risk losing them. It's as simple as that. Only once these requirements are met will the crypto revolution be able to spread to hundreds of millions," Charles Guillemet, Chief Technology Officer, Ledger, added.
Set industry standards
With more and more businesses turning cashless, Janczewski expects that more people will be keen to align with blockchain technology and cryptocurrencies in future. To unlock the full potential of cryptocurrencies and reduce the barriers, Coincover's report suggests addressing the concerns by:
creating industry standards;
tackling complexity by simplifying investing with a smother customer journey;
addressing security concerns by implementing protection measures and educating investors about the risks of investing; and
providing protection against theft and loss.
"Self-regulation is something that we've been working on as a global industry for a long time to support government entities, as well as international standard setters that develop the frameworks that get passed down to individual competent authorities," said Ian Taylor, Head of Crypto and Digital Assets, KPMG and Board Adviser, CryptoUK.
"In a new industry, that's the first stepping stone to providing codes of conduct for members, and a set of rules that protects against harm to clients."